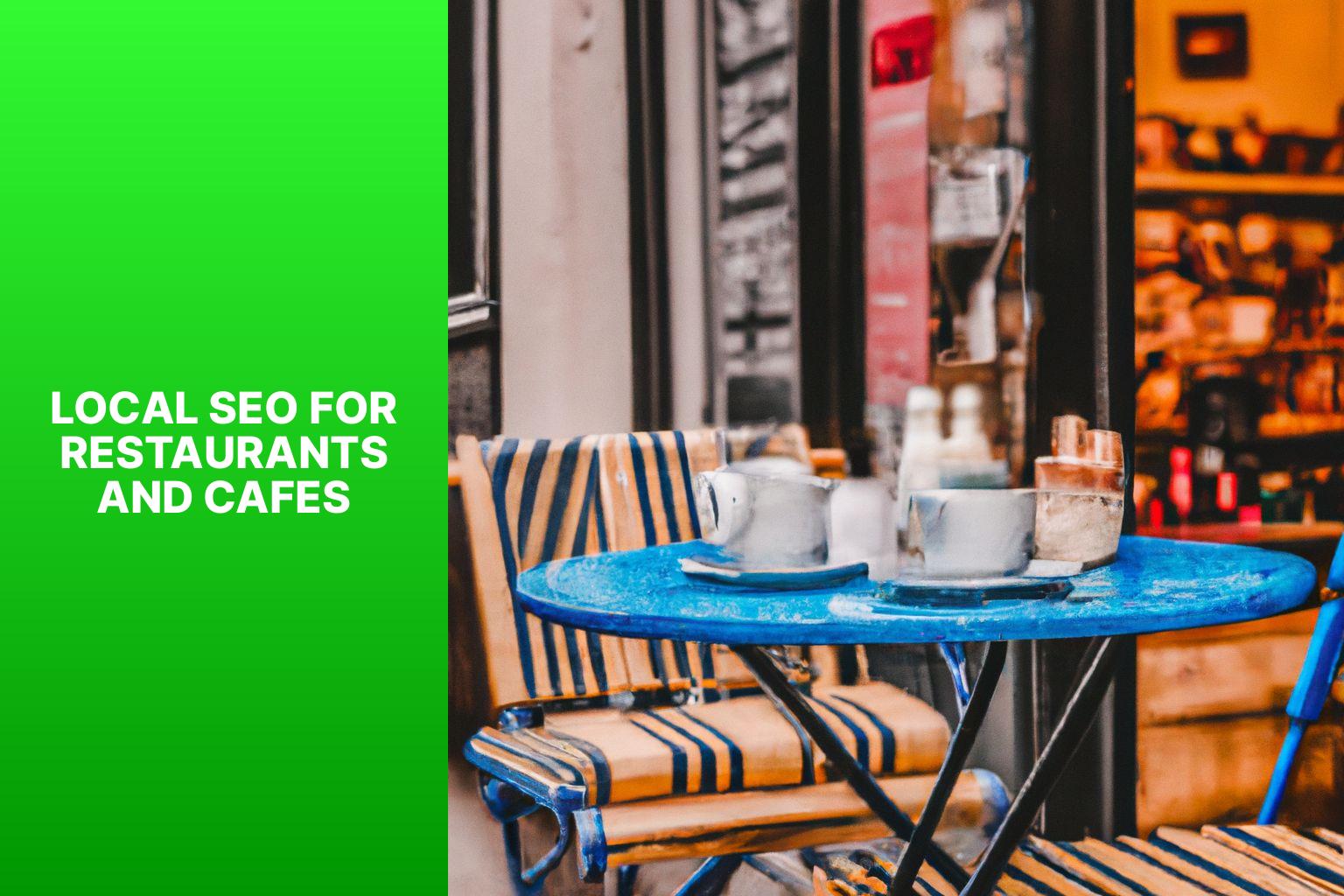 Local SEO Strategies for Restaurants & Cafes
Restaurants and cafes are everywhere! It is essential for them to have a strong online presence. That's where Local SEO comes in. By optimizing their websites and profiles for local searches, they can attract more customers and be more visible in the food industry.
Local SEO targets potential customers in a specific area. Strategies include optimization of website content with related keywords, Google My Business listings, and customer reviews. This can help restaurants and cafes rank higher in search engine results when users search for food nearby.
Consistency across online platforms is important for successful local SEO strategies for restaurants. Restaurants and cafes should make sure their business name, address, phone number, and other contact info are the same on their website, social media profiles, review sites, and directories. Search engines will recognize the business as legitimate, and customers will trust it.
Engaging with customers through social media is great for local SEO. Posting food photos, updates about new dishes and promotions, and replying to customers' queries and reviews can help restaurants and cafes build an online community and make stronger connections with local diners.
What is Local SEO?
Local SEO is a powerful digital marketing tactic for businesses wanting to attract local customers. This involves optimizing website content, managing online reviews, and appearing in local search results. Restaurants and cafes can benefit from local SEO by increasing their visibility to nearby customers searching for dining options.
One unique aspect of local SEO for restaurants and cafes is its emphasis on online reviews. Positive reviews can improve reputation and boost visibility. Businesses should encourage happy customers to leave reviews, respond quickly to negative feedback, and monitor review platforms.
Claiming and optimizing online directories like Google Business Profile (formerly Google My Business) is also key. This provides important information about the business, such as location, contact details, opening hours, and customer reviews. Optimizing these listings helps search engines understand the business, increasing its chances of appearing in local searches.
To take advantage of local SEO for restaurants and cafes, it is vital to understand the unique needs and preferences of the local community. Catering to their interests and providing personalized experiences can build strong relationships with the target audience.
Don't miss out on the advantages of local SEO. Leverage this strategy to bring in more customers, increase online visibility, and grow your business. Start effective local SEO tactics now to stay competitive in this digital landscape.
Why is Local SEO important for Restaurants and Cafes?
Local SEO is essential for restaurants and cafes. It helps them draw in more local customers. Optimizing their online presence means they'll appear in the top search results when people look for dining. This visibility drives foot traffic and enhances their credibility.
When it comes to local SEO for restaurants and cafes, there are factors to consider. Accurate business info on Google My Business is key. This includes address, phone, website, and opening hours. Consistent details help them appear in local searches.
Encouraging customers to leave online reviews and ratings impacts a restaurant's or cafe's local SEO ranking. Positive reviews attract potential customers and signal to search engines the establishment offers quality dining experiences. Businesses in the food industry should prioritize customer satisfaction and ask for reviews.
Creating engaging and informative content boosts local SEO efforts. This could include blog posts about menu items, food photography on social media, or videos showcasing the ambiance. Valuable content generates interest from existing and potential customers.
Restaurants and cafes must invest in mastering local SEO strategies. They can establish an online presence in their target community, drive foot traffic, and experience success. Don't miss out! Start optimizing your local SEO today.
How to optimize your website for Local SEO
To boost Local SEO for your site, there are 4 steps to follow:
Start with keyword research. Find relevant keywords customers use to search for restaurants or cafes in your area. Use these keywords in your website content.
Optimize meta tags. Make sure your title tags and meta descriptions accurately describe your business. Include local keywords. This helps search engines understand the relevance of your website for local searches.
Create localized content. Generate unique, informative content that pertains to the location of your restaurant or cafe. Highlight local ingredients, attractions, or events.
Get listed on online directories. Put your business on popular online directories such as Google My Business, Yelp, and TripAdvisor. Include accurate info like address, phone number, hours, and website URL.
Moreover, monitor & manage online reviews as they influence your visibility on search engines. Implementing these steps will take your website's local SEO performance up a notch. It'll also draw potential customers searching for dining spots in your area.
Local SEO optimization is essential now that competition among restaurants and cafes is higher than ever. Studies show that businesses on the 1st page of local search results get substantially more organic traffic than those on subsequent pages.
Therefore, investing time and effort into local SEO is key to the success of your restaurant or cafe. Don't miss out on this important digital marketing aspect if you want to flourish in today's cutthroat culinary environment!
Local SEO Best Practices for Restaurants and Cafes
In the competitive restaurant and cafe world, local SEO best practices are essential to attract customers and get seen online. To help you ace this digital landscape, here are some proven strategies.
Optimize your Google My Business listing. Provide accurate details like your establishment's name, address, phone number, and opening hours. Also, include high-quality pics of your venue and menu items to draw in customers.
Maintain consistency across all online directories and review platforms. This means the same business name, address, and phone number across listings. Incorrect or outdated info can confuse search engines and customers.
Encourage online reviews to boost local SEO efforts. Positive reviews improve your reputation and increase search results visibility. Respond to reviews, whether good or bad, to show that customer feedback matters.
Schema markup on your website provides search engines with specific info about menu items, prices, and customer ratings. This structured data can increase your business visibility in search engine result pages (SERPs).
Leverage social media to stay connected with your audience. Post updates about events or promotions to keep followers informed and interested in visiting. Ask them to share experiences at your establishment on social media for more visibility and word-of-mouth marketing.
For long-term local SEO success, stay up-to-date with trends and adapt accordingly. Implement these best practices consistently and creatively for success.
Monitoring and Measuring Local SEO Success
Tracking metrics is key to monitoring and measuring the success of local SEO efforts for your restaurant or cafe. These key metrics are organic search visibility, local pack ranking, and website traffic. To maximize local SEO success, review the following strategies:
Analyze keyword rankings on a regular basis. Focus on relevant keywords to draw in potential customers.
Keep an eye on customer reviews online. Maintain positive sentiment by responding promptly and resolving any issues.
Utilize website analytics data. Metrics such as bounce rate, time on page, and conversion rate can help identify areas for improvement.
Consistently audit directory listings for accuracy. Inconsistent contact info (NAP) can hurt search engine rankings.
By measuring and improving your online presence, you can ensure the continued growth of your business.
Conclusion
Local SEO for restaurants and cafes is essential. Taking advantage of local SEO strategies can help these businesses skyrocket their online presence, draw in more customers, and increase profits. However, the implementation of local SEO requires careful planning and execution.
Optimizing online listings is a cornerstone of local SEO for restaurants and cafes. It's vital to make sure the business name, address, and phone number (NAP) are consistent across all platforms. Additionally, positive reviews from customers can greatly boost a business's local search ranking. It's also important to properly categorize the business on online directories like Google My Business.
Using relevant keywords is another key part of local SEO. Incorporating words related to cuisine type, location, and more into website content can improve chances of appearing in local searches. Furthermore, adding content showcasing the unique features of the establishment can draw in potential customers.
An inspiring example comes from a small café in a bustling city. Despite the challenge of competing with big chains, this café flourished by using local SEO. By selecting keywords related to its special coffee blends and locally sourced ingredients, as well as updating its Google Business Profile with accurate info and eye-catching visuals, this café built up a loyal customer base.
Frequently Asked Questions
1. What is local SEO for restaurants and cafes?
Local SEO for restaurants and cafes is the process of optimizing your online presence to improve your visibility in local search engine results. It involves various strategies to ensure your restaurant or cafe appears in front of potential customers when they search for local businesses.
2. Why is local SEO important for restaurants and cafes?
Local SEO is important for restaurants and cafes because it helps you target customers in your immediate area who are actively searching for places to eat or drink. By optimizing your online presence, you can increase your chances of being found by potential customers and drive more foot traffic to your establishment.
3. What are some effective local SEO strategies for restaurants and cafes?
Some effective local SEO strategies for restaurants and cafes include optimizing your website and content with relevant keywords, creating and claiming your business listings on local directories and review sites, managing online customer reviews, and engaging with your local community through social media and local events.
4. How can I improve my local search rankings for my restaurant or cafe?
To improve your local search rankings, make sure to include location-specific keywords in your website content and meta tags, encourage and respond to customer reviews on platforms like Google My Business and Yelp, ensure your business information is consistent and updated across all online directories, and engage with your local community through online and offline channels.
5. Should I invest in paid advertising for local SEO?
Paid advertising can complement your local SEO efforts, but it's not the only way to improve your visibility. It's important to have a solid foundation in organic local SEO, such as optimizing your website, business listings, and online reputation, before considering paid advertising options like Google Ads or Facebook Ads.
6. How long does it take to see results from local SEO?
The time it takes to see results from local SEO can vary depending on various factors, such as the competitiveness of your local market, the quality and consistency of your optimization efforts, and the algorithms used by search engines. Generally, it can take a few months to see significant improvements in your local search rankings and customer engagement.